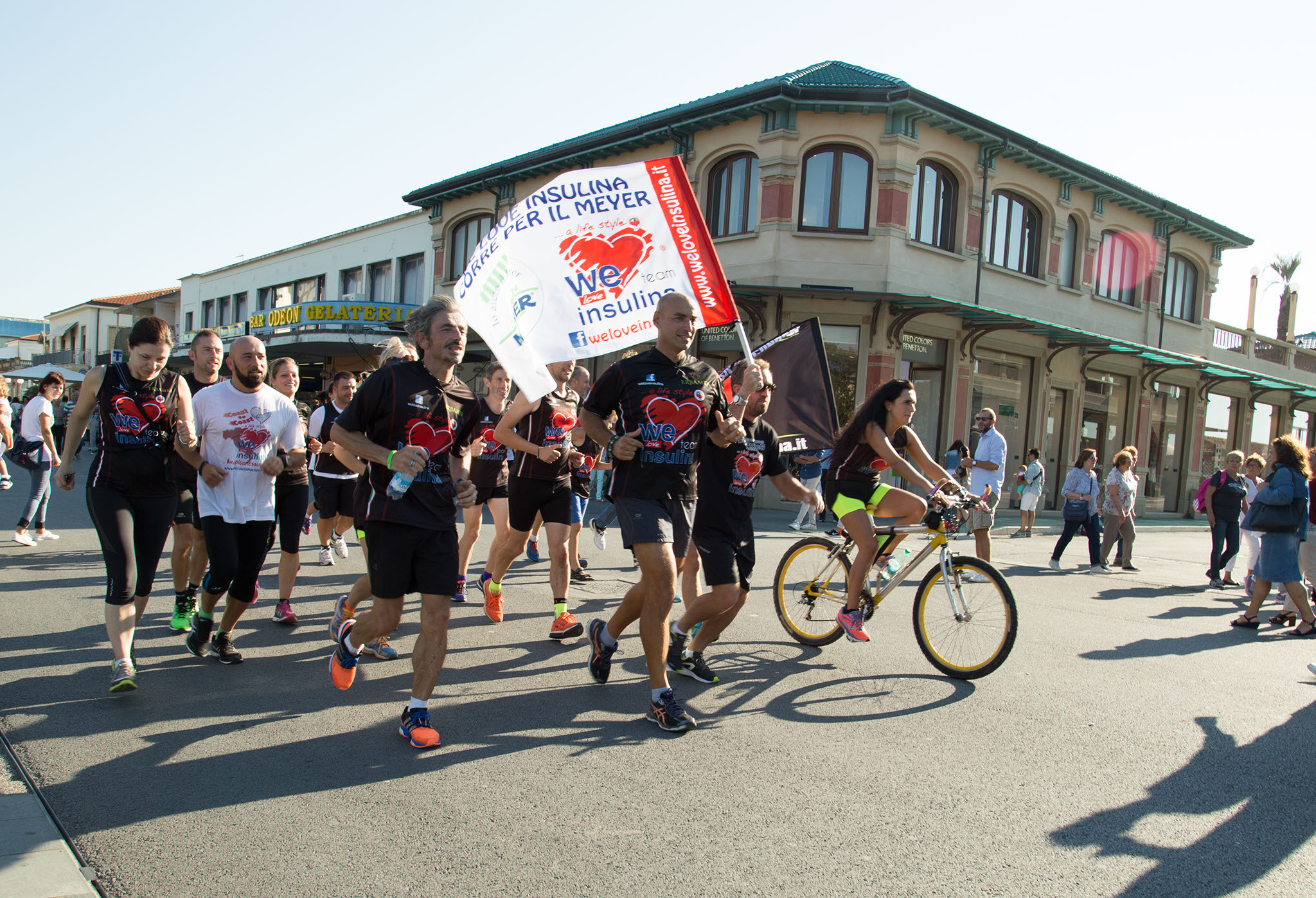 Weloveinsulina is … click here to discover!
Weloveinsulina is an association that, through the sport (running mainly), aims to inform people about type 1 diabetes, especially focused on the importance of its early diagnosis.
Click here to see our video presentation!
Everything begins in 2009 when Plinio Ortolani, only 18 months old, has been involved in a chain of cases of medical malpractice due to which he risked his life (he almost died) and now, as a consequence, he has severe disabilities that will mark him forever, just because there was a huge delay in diagnosis and treatment of his type 1 diabetes. Plinio, in fact, is affected by type 1 diabetes mellitus, an autoimmune disease that cannot be prevented but for which is fundamental an early recognition of symptoms to avoid death or permanent damage.
The dramatic story, that caught also the attention of the press and national italian TV, is narrated in the book "LA FORZA CHE HO DENTRO – The strength I have inside" written by his father Iacopo Ortolani.
The story of Plinio, who needs everyday an exhausting rehabilitation and a lot of cares by his family and doctors, gave Iacopo the strength to transform the tragedy into a positive energy, thanks to wich he tries to make people aware of type 1 diabetes, and mainly, in order to what happened to Plinio never happens to anyone again!
The association operates through sport, in particular running, participating to events throughout the italian national territory. But, Weloveinsulina is even more because, the red heart of Weloveinsulina beats in every sportive man who has decided to promote our message through sport or physical activity that most represents it, even a simple walk.
Weloveinsulina was born from a tragedy and, for this reason, is not just an association of people with diabetes, but it represents an answer for those, like many, who firmly believes that something innovative should be done to make information on type 1 diabetes, from diagnosis to daily treatment.
An early diagnosis is essential because it avoids possible complications to the child; infact if the first common but characteristic symptoms are not promptly recognized (to make so much pee, intense thirst, nocturnal awakenings for drinking and urinating) the child could have severe complications and permanet damages.
Once the diagnosis has been made, it is also really important to know the daily routine of the child with diabetes and his family, which is still a disruptive event in their lives because it involves not only the medical side, but also psychological and even sociological one, especially if the community ignores the characteristics and needs of the people affected by type 1 diabetes.
Weloveinsulina is open to anyone, people with or without diabetes; the main aim is try to face positively, with a smile, the traumatic event that has invested our families, and try to help to reorganize the lives and menage all the daily difficulties, without losting themselves.
Our team is made by people who enjoy life, do sports and be friend, always bringing our message: the timely diagnosis and social awareness about type 1 diabetes.
Infact spreading our message we helped to have early diagnosis of type 1 diabetes in many children throughout the country, preventing and avoiding the diabetic ketoacidosis.
Weloveinsulina wants to be that smile and that hug that gives strength to the people in the same situation; and thanks (and unfortunately) to this dramatic story of Plinio aims to bring among people the message that type 1 diabetes is an easy diagnosis if you have it in your mind, so that what happened to Pliny does not happen anymore #maipiùanessuno! #neveragaintoanyone!
OUR STORY
The best part of the film comes on a Saturday morning, when, Paolo, a friend of mine (and now one of my best friends) convinced me to go out for a jog with Riccardo, who I already knew, but I had not seen him for fifteen years and now he, too, is a great friend. That run was, unaware, the beginning of a new life for me, and it seemed, for me, almost a miracle; but not only for me, because a little later Plinio would returned to life, a new life! As well as Paolo, there is Andrea. Andrea is the fourth founder of our association, that will become a very special running team: the P.d.P
It is a Special team because it will carry a message: raising public awareness on the treatment of type 1 diabetes mellitus, which, if it's undervalued at the time of the onset, quickly, it can be lethal or causing sereve damages for life.
Andrea has become a very special friend; he is also a very precious person and, unfortunately, he has the dyabete in common with Plinio, that's the reason why we share, from the beginning, our fears about this desease. He has been immediatly – and always – available to answer our telephone calls, even in the middle of the night, and to give us a really big help.
After that Saturday run with Paolo and Riccardo, I called him, not for the usual advice on Plinio's diabetes, but just for invite him to join us for a run.
For me, finding some time to do sport was really difficult because of many factors: family, work and Plinio's diabete but, that run with Paolo and Riccardo was really beneficial for me, because it was a good stress release. After that moment I decided that I had to take some time to run.
So, the last glycemic check of the night was at 5:00 a.m., at 7:30 a.m., I should have been on the site. Andrea, are we going tomorrow at 6:00?" "At 6:00?" he said, "In the morning? Well, let's try". Even Riccardo came with us and I was not so surprised, so much was the desire of my friends to meet me.
P.d.p. is the name of a small square of Sansepolcro, Porta del Ponte (the door of the bridge) near which Riccardo live, so we decided to meet and start from there because the place was well accessible and equipped with parking. The experiment was successful and so we also decided, without any obligation of presence, to send a message on our mobile phone, simply to communicate our presence for the morning run. The message was "Tomorrow morning at 6 a.m. at p.d.P."
Since that day, for about a year, I never stopped running, never a rest, never a stop; still today running is my medicine, my cure, my psychologist, it's my way to let the anger go and often, even now, when I go alone, I scream and cry, but when I come back, even if for a short time, I can give something more" [Iacopo Ortolani, "The strength I have inside"] From that run at six in the morning, the four runners's adventure begins; and it gave the strenght to Iacopo to deal with the post-tragedy and with the diabete routine.
The voice of our adventure got around and day by day more runners joined us, so after a few months as "free runners" we started to run with the Podistica Avis Sansepolcro wearing the shirts "I love lina insu". At the same time runners ran through all Italy the most important running races wearing the shirt "I run for Plinio" and waving flags with the same words, so that the lights on the event did not go out and that creature could have justice.
After the experience with Avis, it was founded the "Circolo Sportivo Pdp Ore 6" and we kept running.
Then, in 2015, back from the public audience of Pope Francis, emerges an idea that will be realized shortly with the birth of Weloveinsulina. Weloveinsulina Team is today a group of athletes who run, pedal, walk, travel everywhere, in every part of Italy just to share our message.
We participated in many events, in particular in competitive running races (also abroad), and organized fundraising in favor of hospitals, in particular the Meyer Children's Hospital in Florence, wich saved Plinio's life, thanks to the diabete's team directed by the doctor Sonia Toni.
We participate every year in events that have become classics for our group, such as the Florence Marathon, the Deejay Ten in Florence, the Diabetes Marathon in Forlì, the Mudder's Race in Città di Castello, the Ecocorsa del Lago di Montedoglio, and many others, to which new events are always added every year, on territories increasingly distant from our original Sansepolcro! Until we reached, in 2016, the beautiful Nice, in France, for a weekend full of emotions!
Our presence among people, on the streets, in sports halls, on football fields, in swimming pools, and so on, has been accompanied since the beginning by a great media following through Facebook, first through the personal page of Iacopo Ortolani, then also with the pages "Justice for Pliny" and "The strength I have inside of Iacopo Ortolani", today no longer updated but rich in fragments of our history. Then it was found by the group Weloveinsulina, our great and joyful family that count almost 4,000 members, and arrive in March 2016 at the birth of the page Weloveinsulina with the aim of bring our message more and more among people.
Thanks to all of this we created a chain that has united us from North to South, including Islands, just with one and only message of the heart.
These, and your precious testimonies, are the forces that help us to amalgamate the ingredients in our recipe in the service of the child who will come, at the service of others, this demonstrate that with the power of love everything can be. They shorten the distances, they break down barriers, united by the desire to do something socially useful.
This is our story, let's write the next page together!
"We cannot all do great things, but we can do small things with great love" [Mother Teresa di Calcutta]
SPECIAL EVENTS
COAST TO COAST 2016
The "Weloveinsulina Coast to Coast" (held on 24th and 25th September 2016) was a running race carried out by the athletes members in our team, starting from the shores of the Adriatic Sea, in Lido di Pomposa (FE), and arrival on the shores of the Tyrrhenian Sea, in Viareggio (LU), about 260 km.
Our athletes, with and without type 1 diabetes, have raced in relay with the flag of the team that represents them and that for years has been working in favor of a battle, that advances with love from heart to heart and smile to smile. The event was born from the fact that, even today, despite the great work carried out over the years by the associations of doctors and patients, we often continue to attend delayed diagnoses, also with the feared ketoacidosis.
With our simplicity and ability to get among the people we have spoken and informed people about type 1 diabetes and we have tried to make less and less invisible people affected by diabetes and to talk about its onset symptoms.
Our only purpose was to inform and raise awareness, to demonstrate that with type 1 diabetes you can do everything, and even more, but only if at the time of the onset there was a timely diagnosis and proper treatment, and if you have behind you a valid diabetological center that follows you with professionalism, competence and love.
We had a great visibility along the entire route, helped by our Welove Bus and the camper logato, by the associations of the territories that welcomed us with passion and love, from the press and TV that have dedicated their articles and services to us, from doctors and institutions that have supported, encouraged and supported us! It was a huge organizational and physical effort, but it was definitely worth it! See here the video!
The HEART'S RELAY RACE 2017 NAPLES-FLORENCE
Continuing –ideally- the path undertaken with the Coast To Coast 2016, from 21 to 24 September 2017 we realized "La staffetta del cuore – The heart's relay race 2017 Naples – Florence", a relay race that covered about 600 km through territories of extraordinary beauty, with alternation between the runners of Weloveinsulina Team and cyclists of the three following partner associations:
– "Going around with diabetes", an association based on social promotion that travels Italy by bike with the aim of information; going around in the squares, schools, meeting people, especially the inhabitants of the most remote villages where access to information and medical care is really difficult
"Still travelling – Diabetes no limits and poverty no limits", a voluntary organization of Quiesa (LU) founded to continue the work of Mauro Talini, cyclist affected by type 1 diabetes who died prematurely in 2013 just before his fortieth birthday in a tragic car accident in Mexico while riding his bicycle. He was accomplishing one of his many epic avdentures around the world, including pilgrimages to the most famous sanctuaries, such as Fatima, Assisi, Santiago de Compostela, and major crossings of Latin America;
"ASD UV Tivoli Gentlemen Caffé Portioli", a cycling association which includes athletes already engaged in projects related to diabetes, for example one project in September 2016 during which they pedaled 8 days for half of Italy, welcomed by the associations of the territories crossed, in order to raise awareness of the institutions and public opinion on the prevention and treatment of diabetes, accomplishing the event "Diabetes is not a race", started by Tivoli and concluded in Treviso, stopping also at the Meyer Children's Hospital in Florence and in Quiesa, warmly welcomed by the family of Mauro Talini.
We wanted inform people through sport about type 1 diabetes. The early diagnosis of type 1 diabetes is essential because it avoids the child possible complications related to the severity of the clinical picture that inevitably comes if you do not recognize the first characteristic symptoms (making so much pee, intense thirst, nocturnal awakenings for drinking and urinating, enuresis). Is also very important the knowledge of the daily life of the person with diabetes and his family once the diagnosis has been made, which is still a disruptive event in the lives of these people as it involves aspects in the medical field, psychological and even sociological, especially if the community ignores its characteristics.
So our race didn't stop after the Coast To Coast and we started keep bringing our informative message to people, even more ambitious than ever, because with type 1 diabetes you can do anything and everything you want, but only with a timely diagnosis.
The event began on Thursday 21 in Naples, warmly welcomed by the association Diabetes Junior Campania who organized in the morning a beautiful informative meeting with the students of Liceo Mazzini del Vomero and Liceo Vittorio Imbriani di Pomigliano D'Arco. In the afternoon there was a presentation of the event with the partecipation of important doctors and local institutional representatives. The event ended with the play "Diabetes in the mirror", a show conceived, written, and directed by Frank Bramato and staged by Alessandro Santantonio and Marco Taurino.
The Relay race started at 3 am from Lungomare Caracciolo, with our runners supported throughout the territory of Campania by the athletes of many wonderful local running clubs. Then the cyclists gave us the change in such a way to find ourselves all together for the last 3 km of route, really challenging. The finish line was in Piazza Garibaldi in Tivoli, welcomed by the citizens with the collaboration of ADIG Lazio and the association Le Porte Belle di Memmagghiura.
We left at 3 o'clock on Friday night: direction Perugia, to the Hospital Santa Maria della Misericordia, where on our arrival we were greeted by many people with the collaboration of AGD Umbria, together with which was organized the conference "Type 1 diabetes: early diagnosis, effective cure, know to recognize", with this program:
– Early diagnosis of type 1 diabetes [Dr. Maria Giulia Berioli – Head of Pediatric Diabetology Service Hospital Santa Maria della Misericordia in Perugia] – The good cure of type 1 diabetes [Prof. Geremia Bolli, Professor of Endocrinology at the University of Perugia, Director of the School of Specialization in Endocrinology and Diseases of Metabolism of the University of Perugia] – From Naples to Florence: informing through sport [Iacopo Ortolani, President association Weloveinsulina] Then on Sunday morning, we left at 5 a.m. in direction of Florence, where the relay race ended at 16 at the Meyer Children's Hospital, accompanied by torrential rain and welcomed by a river of people with the collaboration of the Meyer Foundation and the ATBGD Association.
After a little brunch, in the Hall Serra was held the award ceremony of the athletes in the presence of important institutional representatives, such as the President of the Regional Council of Tuscany Dr. Eugenio Giani who conferred the prestigious awardee of Pegasus, the President of the Meyer Foundation Prof. Gianpaolo Donzelli, the General Manager of A.O.U. Meyer Dr. Alberto Zanobini, the staff of the Pediatric Diabetology of Meyer headed by Dr. Lorenzo Lenzi, Eng. Giovanni Lamenza, President of AGD Italy, national coordination of associations of parents of children with type 1 diabetes that has granted free aid to our event that has joined the Federation of Tuscany Diabetic Associations and Federdiabete Lazio.
We thank all our runners and friends cyclists, and all those who, even with a simple message, have supported and encouraged us.
Special thanks to Dr Sonia Toni, Head of Meyer's Pediatric Diabetology, who couldn't be present at the arrival for health reasons but who has been with us since the conception of the event daily transmitting all her enthusiasm and all her important moral support.
Never again to anyone!
See here the video!
****
Here you can see all our photos and videos.
We thanks Miss Chiara Gerra for English translation.